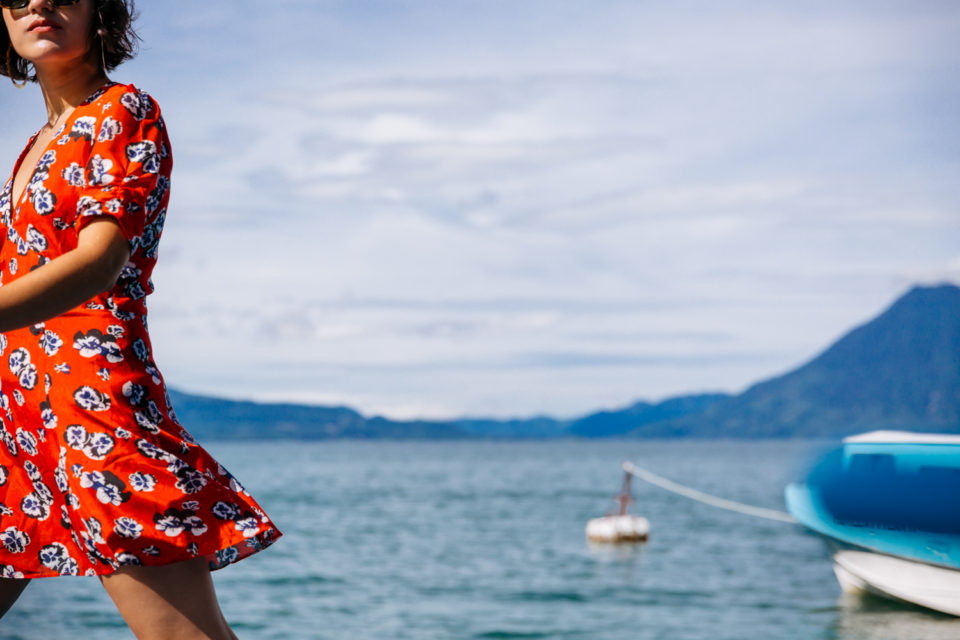 This day had to be the most beautiful day of our entire week in Lago Atitlan. We split our trip into two while here. We stayed half the time in an Airbnb and the other half at Hotel Atitlan.
Hotel Atitlan is known for its lush gardens, but my favorite part was the dock and heli pad. They offer such unobstructed views of the volcanoes and the lake breeze is just perfect for those hot, sunny days.
Now, I didn't pack much clothes-only the most versatile pieces that I know I would want to wear over and over for three weeks-and my Realisation dresses of course made the cut. Ever since I discovered this brand, I have been mildly ridiculously obsessed with them. I ordered a few pieces from their collection. And I knew that these pieces would pack a big punch while still being lighweight enough to cram into my luggage.
While I love their wrap dresses (I have the Alexandra, the Teale, and the Valentina) I am OBSESSED with the Ozzie. It fits so well on my body type (petite, small chested, wide hips) and I'm not on the verge of flashing the onlookers like I am with their wrap dresses. I brought the Ozzie with me to the DR and it had to come with me to Guate too, along with anywhere else I travel to!
Anyway, thanks for making it this far and I hope you enjoy ALL of the photos. This was me holding myself back from posting even more. I am in love with this place and with this dress!
Location: Hotel Atitlan, Lago Atitlan
Wearing: Realisation Par- The Ozzie in Pansy